The Lincoln Park Telescope Historical Renovation Project (Hector J. Robinson Observatory) is currently:
(please note: children must always be accompanied by adults when visiting the observatory)
OPEN: at 15 September 1:00 PM for the HJR REDEDICATION CEREMONY open to the general public- solar observing, many telescopes, the mayor, school board, children, teachers, media, astronomers, and much more- welcome!!! If you like astronomy or telescopes, we want you to use this observatory! Dozens of astronomers, hundreds of public and school children are expected to attend. This is really the a once in a century event for Lincoln Park Schools - the first time it's been used in 30 years, the first new equipment since 1961. Be there to help us celebrate our community and our children's future! This is the 400th Anniversary of Galileo's discovery's the International Year of Astronomy 2009! Come celebrate our gift!
-Timothy J. Dey, M.D.
313-586-7500
www.deygroup.com/telescope.htm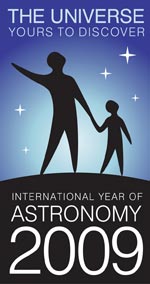 The original mirror hand ground by Lincoln Park students in 1961, the observatory built to house that Newtonian telescope in 1964, and after a brief revival in 1975, this is the story of bringing this long-neglected historical instrument firmly into the 21st century for the students and citizens of Lincoln Park. The U.N. has declared 2009 to be the International Year of Astronomy, and we intend to restore a true gem to its proper place to mark the occasion!
A History of the Hector J. Robinson Observatory
Thanks to the help of Muriel Lobb and the Lincoln Park Historical Museum, archival documents regarding the history of the Lincoln Park Schools telesope project were uncovered, and much of the story of the early years from 1961 through 1975 were recovered. If you would like to view scanned versions of this material, please feel free to click on the small images below (they will open as high-resolution .jpg images).
Click the link below to watch a PowerPoint presentation regarding our project to date (with lots of photos):

If you have any questions, input, or would like to help complete this project, please contact me with your details and I will get back to you as soon as possible. I make every effort to return contacts within 24 hours, and often the same day if the call takes place during standard business hours (Monday-Friday. 9 a.m.- 6 p.m. Eastern Time Zone).
A brief history of the origin of the project and some biographical information can be found in the link below:
LPS Project+Timothy Dey Bio.pdf
Thank you for your time, and clear skies!
Timothy J. Dey, M.D.
Click the link below to visit the website of the Ford Amateur Astronomy Club (FAAC) - a major contributor to this historic renovation by virtue of their ongoing public education outreach and technical expertise to the restoration project:

10 June Update
George Korody and I spent our morning taking fine measurements of the aluminum riser, the cut that needs to be made, and the weld of a 9" aluminum disc of 1/2" thickness that will be need to be made to the top of the newly cut riser (does anybody have the expertise and tools to weld aluminum?). . Once the riser has been shortened and the top plate welded to it, we will use the sun at zenith to have a vertical rope cast a shadow across the plate. This will then allow us to mark where exact north is on the plate once attached to the concrete pier, and where to drill our holes into the aluminum plate that will match the pre-drilled holes in the Losmandy base plate. Then we can bolt the Losmandy Titan onto the base plate and then the C14 OTA for fine polar alignment.
Wednesday the 17th at 11 AM Joseph Griggs (our contractor) and company will arrive to have some "before" photos taken by Greg Ozimek, and then begin to power wash the building inside and out. This will be followed by OSHA certification that the building is safe for occupancy. While his crew is doing that, Joe and I will drive to the Allen Park Home Depot, who have generously responded to our appeal for help with this project by donating 6 gallons of premium Behr exterior paint for the outside walls (white), exterior dome (silver), and interior surfaces (dark blue). The painting will take place on a following day to allow the walls to dry. All club members are welcome to be present who have an interest in the project or with to be being included in the photographs.
Electrical will be reworked, and a trench cut in the floor to allow for conduits to run power and data cords to connect the computer carol to the central pier. We will need to find donations of 3-5 bags of cement to help repair the floor. The school may be able to help in part with this resource (yet to be determined).
Four IR heat lamps connected to a temp/humidity sensor will be installed to switch on to prevent condensation damage on cool days. A switch will be provided for a white light, and a red light will be provided on a rheostat to allow for dimming (these materials are also needed).
Total work will last about 5 days over the next two weeks, and then FAAC club members should be ready to install the telescope proper.
The school will provide fiber optic connections, computer and screen, and desk. We will need an educational version of the Sky 6 and other useful software to load on the computer.
FAAC club member Larry Hoffman has generously agreed to donate his AC Losmandy power supply to the school to power our Titan mount - a huge thank you to Larry for that not insubstantial gift!
Thanks to all the club members for you ongoing support - first light is just weeks away now!
Timothy Dey :-)
www.deygroup.com
313-586-7500
11 June Update
After meeting this afternoon with the contractor, we have decided it will be
possible to raise the floor of the observatory considerably and make it really
pretty as well as wheel-chair accessible without too much additional cost. What
is now needed is the following:

20 - 2x6x12 pieces of wolmanized lumber
6 - ¾" 4x8 sheets of wolmanized plywood
6 - sheets of Duraroc (or equivalent)
4 - bags mortar for tile
1 – bag mortar for cement block
We are hoping the Lowe's will come through for us with some or all of these
materials, if not, we will have to seek elsewhere. I have asked the Lincoln
Park Historical Society to donate beautiful stone pavers for the flooring, and
they have agreed (they have spares left over from a previous project). All these
materials will allow us to raise the floor of the observatory some 6-8", which
will let us use the telescope closer to the horizon. It will also allow us to
run our conduits under the floorboards without cutting into the concrete
flooring itself. The wheel-chair ramp will make the observatory ADA-compliant -
a nice touch for a public project!
Tim
www.deygroup.com/telescope.htm
18 June Update - Wash Day!
Well, with much thanks to the Joseph P. Griggs Historical Renovations Crew the Lincoln Park Schools observatory received its first bath in over 45 years! It took about 400 feet of hose to reach from the nearest spigot to the power washer, but the job got done, and the building is as clean as a whistle, inside and out! Greg Ozimek was present and captured publicity photos for Joseph and crew, as well as documentation of the cleaning itself. George Korody was also present, in addition to myself and several school personnel (including Leo McMaster). It was quite something to watch all that grime come off, and the building is now MI OSHA certified as "clean".
The next step is to let the building dry over the weekend, and next week paint the building white on the exterior and navy blue inside, with artistic touches to be added on both sides by the schoolkids themselves in the Fall.
A decision has been made to go with indoor/outdoor carpeting on top of the raised wolmanized plywood flooring - a sheet or two sufficient to cover an area with a 12 foot interior diameter is what we're seeking at this point. We are also in need of somebody who can cut our aluminum riser (which will rest on our concrete pier) to a height of 6 inches and then weld a 9 inch disc to the top in order to prepare it to receive the Losmandy Titan mount.
Pictures from Greg to follow shortly!
-Timothy :-)
www.deygroup.com/telescope.htm


29 June - "Hector J. Robinson Clear Sky Chart" is generated
http://cleardarksky.com/c/LknPrkObMIkey.html?1
A big thanks to FAAC member Ben Cline for working with "Clear Sky Chart" guru Attilla Danko to create a permanent web page which generates forecast images just for Hector J. Robinson Observatory and the surroundings out to about 10 miles.
9 July - The painting is finally done!
It took the better part of three days and 11 gallons of Beyer's best premium indoor/outdoor paint, but the observatory shines like new! The outer dome has been painted white, the outer walls a light blue, and the entire interior including the inner dome and shutter a shade of navy named by Beyer (no kidding...) "Outer Space" blue!! Next week the elevated floor, indoor/outdoor carpeting, underfloor conduit and new electrical panel and boxes will start to go in, and when that's complete, we'll be ready to start installing the telescope mount, optical tube assembly, computer, and all the other cool toys. A huge thank you to Joseph Griggs and Crew, Beyer Paint, and Audrey Jameil of Allen Park Home Depot for all their fine work to get us to this point. Additional thanks to the Ford Amateur Astronomy Club and the Lincoln Park Historical Preservation Society for their donations of $500.00 and $200.00 respectively to underwrite the purchase of all these materials. Stay tuned!
(To see pictures of the painting job, click: Telescope Project PowerPoint to see a slide show).
28 July - The elevated wooden floor is installed
To see some GREAT pictures of the powerwashing of the building and the installation of the elevated flooring, as well as other elements of the project to date, check out what Greg Ozimek has posted at the FAAC Boonhill site:
http://boonhill.net/faac/Observatory_LPS/index.htm
Also feel free to begin visiting the Lincoln Park Schools Observatory Website, which is under construction but rapidly growing thanks to the weekly work of Lincoln Park IT techical officer Ed Brzozinski:
http://www.lincolnparkpublicschools.com/web/index.php?page=history&iduser=326
Finally, if you'd like to download the entire full-size "Astronomy for Everyone - Episode 3" show, right click the link below and save it to your desktop. It will play with Quicktime or Windows Media Player.
http://deygroup.com/video/Astronomy_for_Everyone_Episode_3.mpg (WARNING - this is a 1.1 GB file and is VERY large - this file takes at least 15 minutes to download).

21 August - The Hector J. Robinson Observatory has a new telescope installed!
For the first time in over 30 years, the Lincoln Park Schools Hector J. Robinson Observatory has a functional telescope in place, and what a telescope! To see even MORE great pictures of the installation of the Losmandy Titan mount and Celestron C-14 Optical Tube Assembly, check out what Greg Ozimek has added at the FAAC Boonhill site:
http://boonhill.net/faac/Observatory_LPS/08_21_2009_Standard/
A huge "Thank You" to George "Obiwan" Korody, Mike Rousseau, and all the others who helped with the installation process!
15 September - The Hector J. Robinson Observatory has its Grand Rededication Ceremony!
Read all about it, and looking forward to seeing you there! :-)
Press Release-Lincoln Park Observatory
Contributors to the Lincoln Park HRJ Observatory
An ENORMOUS Thank You to all the many members of the Ford Amateur Astronomy Club, Lincoln Park Schools, the City of Lincoln Park, Joseph Griggs and Company, and all others who contributed in the effort to make this a hugely successful dedication ceremony. We had members of the press, L.P. Superintendents, Board Members, Principles, Teachers, our Mayor, numerous members of the public and over 200 of L.P.'s schoolchildren present for the dedication. Pictures and press releases to follow soon!